I've lived here all my life, but I never appreciated how beautiful and historically rich this area is, and I certainly never learned to love all the fun places that surround me. Well aware that many of you may not live in the Capital District, I am going to write about it anyway in hopes that if you ever visit, you might see these places (even go out of your way to visit them!) and think, "Hey! That girl wrote on her blog about that place. Let's check it out!" The following is a list of 14 things/places/etc. that I love about the Capital Region and you should too.
Why fourteen?
you may ask. Well, honestly, I was going to do 15 or 20, but I got major writer's block at 14, and I've been working on this post for a week (maybe even more) and figured I might as well post it as is. So, without further ado, let's introduce the lineup! In no particular order,
1) Architecture of Albany.
The rows of attached houses on Madison and other streets have such detail on their facades, and some have quite gorgeous color palates. The architecture in Albany is so broad, and yet it compliments itself. The modern skyscrapers adjacent to the 1800 architecture of the Cathedral of the Immaculate Conception show you a wide range of styles. You can step out of your apartment on Madison and be greeted by the modern buildings on one side, and the old fashioned city architecture on the other. Some streets (Lark St comes to mind) have their brick roads showing through at parts, reminiscent of horse-drawn-carriage days. The Capitol Building and other State Buildings (like the D&H Building) remind me of castles. And the tall skyscrapers remind me of bigger cities like NYC and DC. The city has an all around feel to it. It's almost like anyone can find a district they like. You'll just have to go take a look for yourself.
2) Touristy Lake George
A little ways away from Albany now, let's take a look at Lake George, St. Isaac Jogues' historic discovery (Lac du Saint Sacrement)! Another location to visit on your next trip to the area, it is the perfect site for a hot summer day. Put on your flip flops and maxi dress and walk Canada St. You'll often hear live music playing from various venues. Grab a bite to eat and then pull up an Adirondack Chair to lounge on the beach. Sometimes I like to go and just people-watch... Another good time to visit is the fall. Upstate New York is renown for its gorgeous fall colors.
3) Bier Abbey
More specifically, the Beer-BQ. It's a BBQ dipping sauce but with some sort of beer infusion. I would go there just to order their fries and dip them in this glorious creation. I don't drink (and I really don't like beer) but going here with friends has proved that their food is great and their atmosphere is really cool, and from what they tell me, the beer
is
really good.. Definitely a place to grab dinner and drinks.
4) 166 Glen "here"
A whimsical shop formerly located on Glen St in Glens Falls is soon relocating and being dubbed with a new name ("here"). I expect that its cute contents will continue in their path of being adorable, collectible, locally-made, and intriguing. There's almost a weekly rotation of new furniture and household products. The really good ones obviously stay longer (the scented soaps they carry are amazing and have continued to be stocked since the opening of the little shop months ago), while more rare pieces (usually of furniture) are snatched up within days, sometimes hours. If you're from the area, frequent stops here are a must. Get to know Tim, the owner, and snag some neat items!
5) St. Joseph's Church, Troy
I'm slightly partial to this Church because it currently is the home of the Latin Mass Community in our Diocese. No photo can do this Church's interior any justice. It's one of those structures that makes you say WOW when you step inside. The exterior of the Church is a bland brick (the original red stone that once coated the building is now incorporated in the Cathedral), but once you enter, you see the wonder contained within. The marble altars (1 high altar and 2 low altars) reach heavenward and the detail on the walls and ceiling are intriguing. What makes this Church so special in this Diocese (apart from the Mass said here at noon) is its tiffany windows. These windows depict the lives of Christ and Our Lady in a most artful manner. They wrap all around the Church, and into the Sacristy. One could easily spend hours visiting each of the windows and meditating upon the depictions therein. Definitely a place to see.
6) The various Consignment Shops
I tend to be really cheap, and especially now since I still am unemployed and left the Convent with just about nothing. It's a huge blessing that we have such a variety of consignment and discount stores around here.
Clothes Mentor
,
Plato's Closet
,
Peter Harris
, and
Finders Keepers
are my favorites at this point, but there are so many more to discover, and you'd be surprised about the gems that are hidden in these stores!
7) Stewart's Shops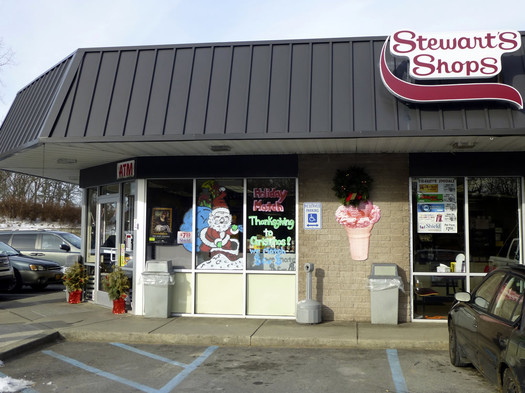 It's something that you never notice until it's gone. Again, growing up here I took for granted the awesome stores we have. When I visited Convents in other states I was shocked to see the lack of Stewart's Shops! They're around every corner here. They're famous for their ice cream, which is delicious and has every right to be famous...
8) Troy Savings Bank Music Hall
Again, I'm partial to this venue because I sang here while in Madrigals. It's worth going to any performance there just to hear the acoustics and to look at the detail in the interior of the space. It's gorgeous. Names of famous composers encircle the ceiling. It's just a beautiful place.
9) DTCT
Downtown City Tavern is located in Downtown Glens Falls, and has like, the best pizza! The atmosphere of the little place is radiant but chill, and their food is delicious. They lifted a
real
brick oven into the kitchen, and their pizza has that real, authentic taste. Deeeelish!
10) Schuyler Bakery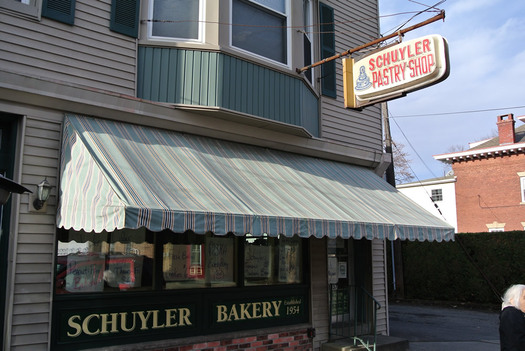 Located in Watervliet, this bakery is known for having pastries for sale between $.25-2.00, and they're delicious!
11) Adirondack Mountains
If you're here for the summer or even just driving through, one of the most breathtaking sights in the area is the view from the top of one of the 46 Adirondack Mountain peaks. Go hiking up one of the mountains (there's a
club
to motivate you to hike all 46!), or simply drive up some of the smaller ones (Prospect Mountain in Lake George is a popular one).
12) St. Francis Chapel
The Chapel of St. Francis on Wolf Road is nestled in a shopping center and offers Mass three times daily, and the Sacrament of Reconciliation nearly all day long. Devotions to the Sacred Heart and various Saints are scattered throughout the week, and Adoration and Benediction are celebrated Monday through Friday. Although I don't like to attend Mass here, I do appreciate and make use of the hours for Confession, heard by the Friars that staff the Chapel.
13) Saratoga Race Track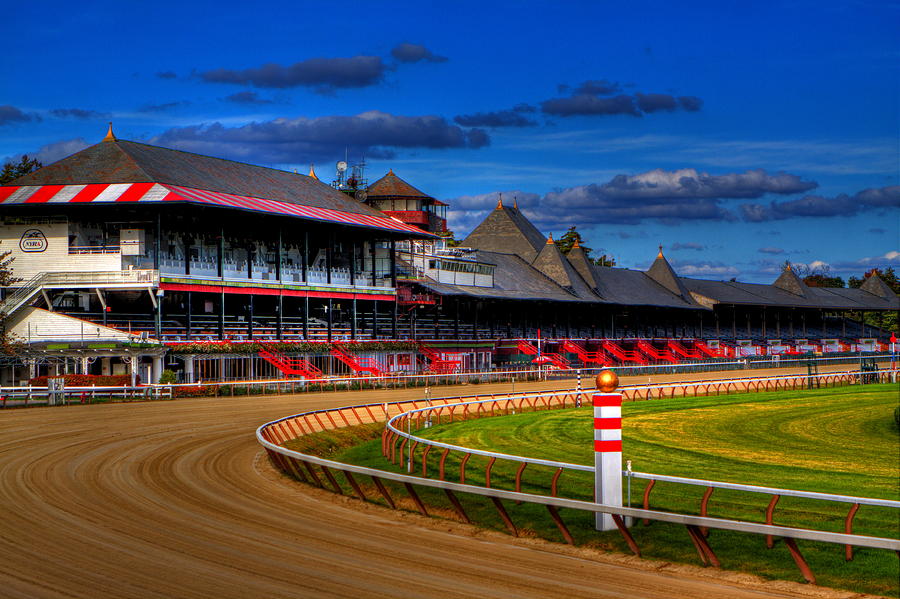 Are you a fan of horse racing? Plan a trip around the Travers Race that takes place annually in Saratoga since 1864. There are other events that take place at the track (cheese and wine tastings, "fashion Saturdays," and even "Family Mondays"). [Also check out
"Racino."
]
14) Lark St.
(Click the photo to go to the website)
Whether you're getting a burrito at Bombers, buying healthy ingredients for dinner from Lark St. Natural Foods, or trying on a tux at Waldorf's, Lark Street offers a range of choices for food, drinks, nightlife, and shopping. Many buildings not only have ground floor shops and venues, but basement space as well where shops and eateries can be found. There's a wide variety of
dining venues
on this very popular street in Albany. Just make sure if you go out for drinks, you don't wander down the street to Lark Tattoo or Lark Vegas Piercing...
I hope you enjoyed reading this post. Please share it with your friends.
God bless!
AJPM